Due to updates in the reservation system, all online bookings for activities are temporarily disabled. To make a reservation, please call us or contact us via email.
What to see in our surrounding...
Javorca Church
The church celebrates the fallen Austro-Hungarian defenders of the Isonzo Front battlefield (1915–1917). As the most beautiful World War I memorial in the area of the Republic of Slovenia, it was placed on the list of particularly important European historical and cultural heritage back in 2007 and receivedEuropean Heritage labelin 2018.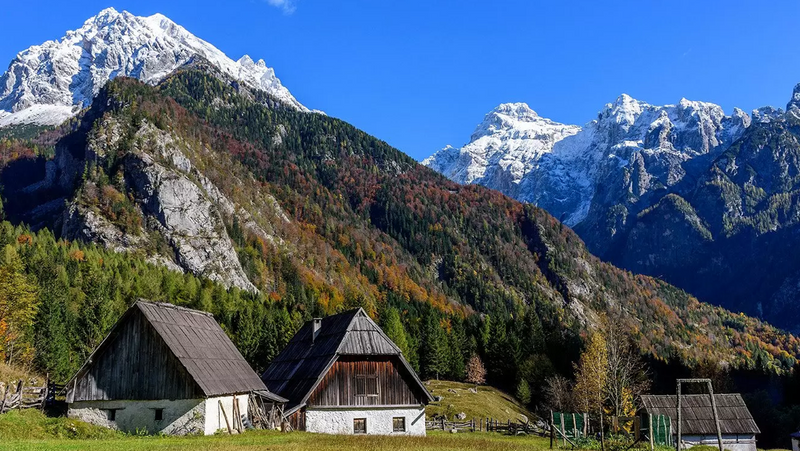 Triglav National Park
he only national park in Slovenia and a veritable paradise for fans of pristine nature. The Triglav National Park boasts a number of natural sights. It covers the area of the Eastern Julian Alps. The highest point of the park is the peak of Mt. Triglav(2864 m), which also gave the park its name, whilst its lowest point lies in Tolmin Gorges(180 m).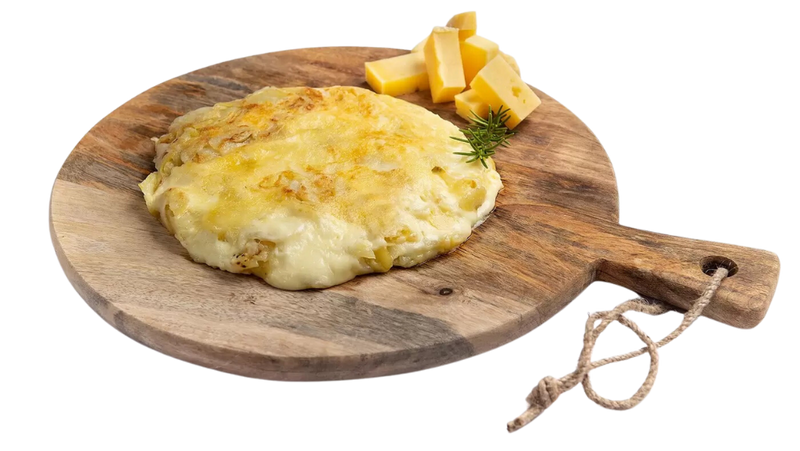 Gastronomy
People near the River Soča have always known how to eat well and have wanted to eat well. The tradition has been passed on through the generations. In Soča Valley the local tradition shades into top gastronomy. Try everything from simple dishes of our grandparents to the masterpieces of one of the world's best female chefs, Ana Roš. Enjoy your meal!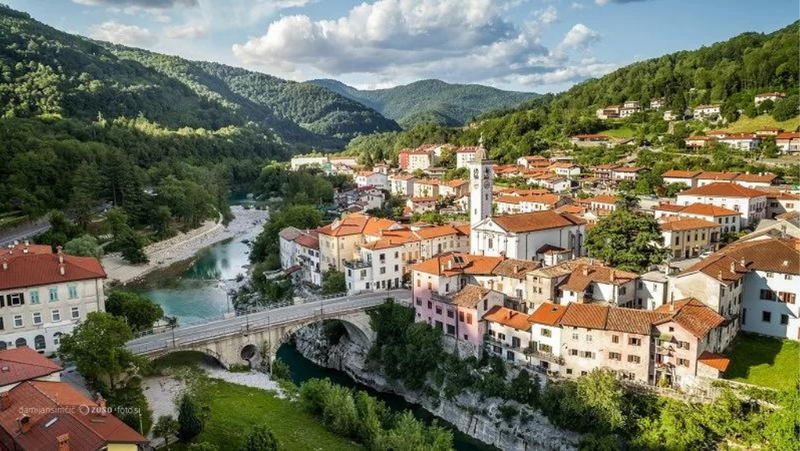 Brda & Kanal ob Soči
Just 19 km from Tolmin lies the hidden gem of the Soča Valley. A small town with a rich culture and history, it is certainly one of the attractions not to be missed. From Tolmin, you can visit it by train, car, or bicycle, as there is now a scenic cycle path to Kanal, also suitable for families with small children. Not far from the town, the region is also home to one of Slovenia's best-known vineyard regions - Goriška Brda.
Tolminka Gorge
The Tolmin Gorge is a common name for theTolminka and Zadlaščica Gorges.The Tolmin Gorges are the lowest and probably the most beautiful entry point into the Triglav National Park. The circular path leads us through the wild gorges of Tolminka and Zadlascica, which merge into the only confluence in the gorges on the territory of Slovenia.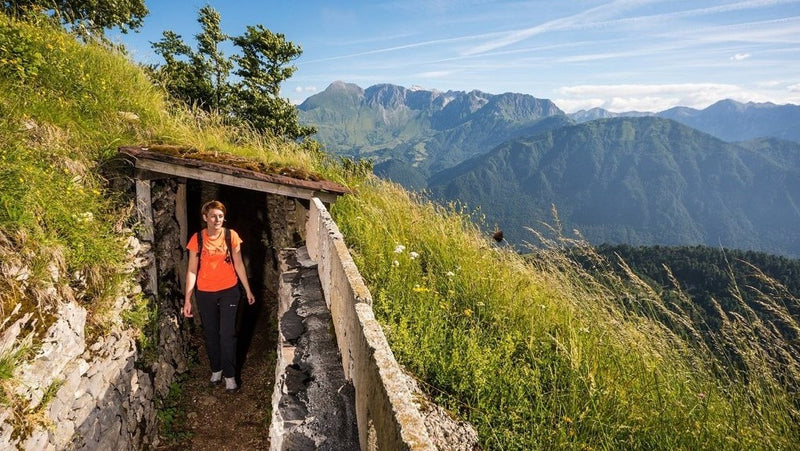 Kolovrat Open-air Museum
Thethird defence line of the Italian armyduring the First World War was on theKolovrat Ridge, which offers incredible views and connects the Italian Veneto Region with the Soča Valley. The lookout spots, the firing trenches, the artillery positions for machine guns and the caverns are particularly interesting due to various details.
How our customers described their experience with us...
Thomas Leroy
We had an amazing experience with them! Matija was friendly and professional. He explained all the safety measures before starting and guided us along the way That was an awesome introduction to canyoning.
Alf Oschatz
We enjoyed the kayaking and canyoning activities, the professionalism and competence of the organisation as well as tour guidance, and the personal touch when guided. Highly recommend.
Daniel Peter
Wir haben bereits zweimal Canyoning Touren beim Azimut Center gebucht. Organisation und Durchführung waren immer super. Die Guides achten sehr auf korrekte Sicherung. Je nach Vorkenntnissen kann man sich auch selbst abseilen. Sehr schöne und abwechslungsreiche Canyons.
Iris Van Hoof
We did a canyoning trip with 2 adults and 2 kids (12y and 13y). Our guide Samo was very experienced and an amazing teacher. We trusted him with our kids completely! The experience was amazing. I would higly recommend this company. Take your time and book your adventure well in advance. Listen to their advice, so you can enjoy all the best of Slovenia!
Roberto Vacca
It was our first experience with rafting and both the guide and the Soca river were perfect! It was exciting and safe at the same time, with even a chance to do some cliff jumps and river swim! Our guide was so clear explaining all the instructions and nice telling us stories and rafting facts! Such a great person! I'd love to book with them even other activities, definitely recommend them 👌🏼
Darinka Švajger
Poskrbeli za odlično organizacijo za naš izlet, poskrbljeno za varnost, odliča odzivnost, svetovanje.. glavno top..
Laura Van den Bosch
We had a very nice canyoning experience with Azimut Center. We were guided through the canyon by Samo who clearly had a lot of experience and made us feel safe every step of the way. The company is family-run and there is obviously a huge amount of passion and pride for the job involved. We would really recommend booking a trip at this center!
Annemieke Klink
Met ons gezin met 3 meisjes van 10-12-15 jaar een superleuke ervaring gehad met canyoning. De gidsen zijn zeer bekwaam en gaven zelf ons met watervrees en hoogtevrees het vertrouwen waardoor we deze fantastische ervaring hebben kunnen opdoen. Goed georganiseerd en goed materiaal
Het was in 1 woord fantastisch.
Marta Vizcaíno
We did kayaking with the whole family and Mattia took good care of the little ones and paddled all the way with them ensuring all of us were having fun. Amazing day out. Great service. He went far and beyond teaching us techniques in the river. We hope one day we come back 😃
Max Mustermann
Great Management, super friendly and experienced guys. Was fun and definetily worth the price! 10/10 would come again. Helped us also with logistic thinks and gave good recommendations for the rest of our Trip.
Ma Rio
We booked kayaking and canyoning and it was one of the best experiences of our life. The guides were very friendly and helpful in any situations. They know their business very well!!! We would book tours with them anytime again.
Emilie G
We loved our first kayaking experience, even if it was not easy for us and I was not a natural... We felt absolutely safe the whole time. Our guide was excellent. We did the Volarje-Tolmin sit on top kayaking tour and were very happy about it. It is such a beautiful area and a different way to visit it. The booking process was easy. Staff is very friendly. We will definitely use their services again next time we are back in this beautfiful part of the world :)